← Previous Kiu TV Base w/Light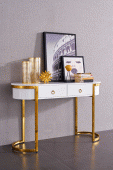 Next 131 Hallway Console Table White/Gold →
← →
You may also press keyboard arrows
or click at page corners for navigation
LCD wall unit
Evolution TV Composition
20% OFF!
$525
$421
Colors: Brown/Walnut, Light Beige
Materials: Wood-based panel, Glass
Finishes: Mat
Item Description
Wall Unit consist of 1 x TV Stand and 2 x 1 Door Chinas
Accuracy is perceptible by the details that
emphasize the personality of this exclusive
model. An accurate processing that combines
the wooden finish and the ivory lacquer. Embedded in the details, the quality is highlighted and the style is enhanced.
Inventory is updated on 06/02/2023
The inventory quantities are subject to change, please call for more updated information