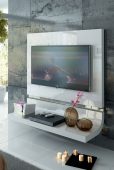 ← Previous Granada TV Panel
Next Prestige 1 Door China →
← →
You may also press keyboard arrows
or click at page corners for navigation
Cordoba Wall Unit
10% OFF!
$2544
$2290
Colors: White
Materials: Wood veneer, MDF
Finishes: High Gloss Lacquer, Mat
Item Description
* "L" inverted unit has two doors, one big from top to floor with glass insert and lighting and the smaller door on the right which sits on top of the low modules.
*All is white high gloss except for the front of the drawers low modules and the inside of the acrylic section with light which is in oak wood veneer Decapé (which is a white wash, the brownish color is from the wood grain)
*Open shelf on the left has Acrylic side, Acrylic front and light. The door is one from top to bottom (wood+ Acrylic + wood)
* The horizontal OAK units are two drawers one bigger than the other.
FINISHES: WHITE HIGH GLOSS / NATURAL OAK WHITE DECAPÉ
Contemporary furniture is a nice way to add fresh look to your home
Swatches
Fenicia Swatches
Inventory is updated on 03/29/2023
The inventory quantities are subject to change, please call for more updated information