← Previous Herrera Living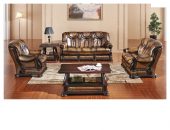 Next Oakman →
← →
You may also press keyboard arrows
or click at page corners for navigation
116 Sofa Bed Grey
10% OFF!
Colors: Brown/Wenge/Walnut, Grey/Silver
Materials: Fabric
Item Description
Minimalistic design, strict geometric shapes allow the 116 sofa-bed to blend harmoniously into the living room in the Scandinavian style or any modern interior.
3 Seat sofa-bed
Color: grey
Material: Fabric
Legs: Wood
Bed sleeping area: W72"x45"x18"
Seat Height: 15"
Seat Depth: 24"
Inventory is updated on 11/29/2021
The inventory quantities are subject to change, please call for more updated information