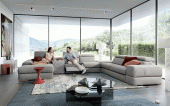 ← Previous Plaza Sectional w/Bed, Recliner Chair, Bar & Storage
Next Coletto Sectioanl w/Bed →
← →
You may also press keyboard arrows
or click at page corners for navigation
2.5FL-1D(5)SR, leather G-658
Domo Sectional w/Bar, Recliner & Storage
Colors: Special Order, Grey/Silver
Materials: Special Order Materials
Finishes: Special Order Finish
Item Description
Domo Sectional with Sleeping Function , recliner chair , storage and sliding bar.
Available in fabric and leather for Special order.
Corner Domo surprises with functional solutions, which, combined with an extremely attractive, modern look create a piece of furniture for the whole family. Thanks to the possibility of unfolding, it will be a comfortable bed for guests, while a single chair with a relaxation function (electrically controlled) will be perfect for watching TV. This function allows the seat and backrest to be unfolded and the footrest extended. Another element that increases the attractiveness of the furniture is a bar with a wooden top and a pull-out drawer, which is ideal for cups with a drink or a laptop. In addition, the piece of furniture has adjustable headrests, allowing you to adjust the height of the backrest for growth.
Variety of colors and configurations available for special order.
Swatches
Gala Swatches
Inventory is updated on 12/06/2023
The inventory quantities are subject to change, please call for more updated information