← Previous Lisa Dining Room, Italy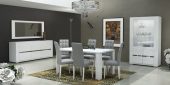 Next Elegance Dining Room →
← →
You may also press keyboard arrows
or click at page corners for navigation
Evolution Buffet Mirror
Evolution Chair (Microfiber)
Evolution Chair (Microfiber)
Evolution Mirror & Chairs, Italy
20% OFF!
Colors: Brown/Wenge/Walnut
Materials: Fabric, Wood-based panel, Glass
Finishes: Mat
Item Description
Perfect combination of matter and design. Exclusive details emphasize the strong contemporary personality.The Evolution project is enriched by
a precious handle that decorates the
entire collection.A wide range of components,
making the living cozier
and more practical.
*Color : Ivory & Wood
*Legs Color: Ivory
*Handle Color : Light Ivory
China: shelves are not adjustable.
Inventory is updated on 05/23/2022
The inventory quantities are subject to change, please call for more updated information